Hey Guys,

Not sure if anyone looks at this blog or has even found it but for all of my invisible readers... it's been awhile and I apologize. I had such high hopes for this blog, hoped that it would become something extraordinary.

I've been going through some life-changing, mood-altering events and I'm not really sure what I'm doing anymore. Even stopped painting because I felt just as trapped there as I did with everything else. So this is something new, something unlike my usual work; it's more messy, less controlled. Hope y'all like it:


A couple of weeks ago, I was struck with an overwhelming urge to paint a Mayan woman. Did I have any idea what a Mayan woman would look like?? Nope, not at all so of course I chose to research this idea quite thoroughly. I planted myself on my couch and watched 'Apocalyptico'...twice! Yeah, that's right I said it! lol No, in all seriousness, I had watched it a couple of nights before I wanted to paint anything of that era and it probably just got stuck in my head so I watched it again and started doodling in my travel book:


As you can see I decided I liked the third thumbnail with the back facing forward and the face at a side profile. I attempted changing the side profile so that it would show more of the facial features but it looked somewhat awkward and I just wasn't overall that fond of it. After a few more failed sketches that I didn't both to post, I basically ended up with this:

I dont know... Still working on it and I have no idea what I'd like the colors/background to be, just thought I'd share.
WELCOME and just plain hello! lol This would be my first post...obviously. For those of you that don't know me, you'll soon learn that during my fiery spurts of intellectual brilliance, I'll state the obvious. Yup, that's me, I'm a genius. *rolls eyes* Anyway I kept postponing this first post because I wanted to start off with something important-ish or amazing even but that'll have to wait until the second or third post. I'm going to try to post at least once a week if I can but for right now, the only new thing I have is a sketch I made of my niece during the weekend. She's a victim to my sketching moods. lol: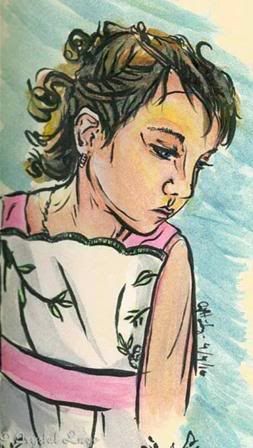 It's quite small because I sketched it with pen and painted over it with acrylics in my travel book. I've added it to my portfolio in the 'Acrylic' category...